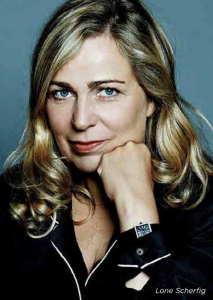 Lone (f. 1959) studerade inledningsvis filmvetenskap vid Köpenhamns universitet men kom redan 1981 in på regilinjen på Den danska filmskolan,
där hon utexaminerades 1984. De första 15 åren blev det mest tv, men debutfilmen Kajs födelsedag (1990) om festglada 40-åringar som gör en färjetur till Polen blev väl mottagen. "En Lasse Åberg i regi av Bille August" skrev en dansk kritiker. När mor kommer hem om tre syskon som får klara sig själv när deras mor sitter i fängelse valdes som inledningsfilm i barn- och ungdomssektionen på filmfestivalen i Berlin 1998 och två år senare blev det Grand Prix för Italienska för nybörjare vid samma festival. Det var ett genombrott som gav eko. Filmen såldes till 44 länder och Lone fick anbud från flera länder. Wilbur (2003), inspelad i Skottland, blev
den engelskspråkiga debuten. Åter i Danmark regisserade hon den delvis manus-improviserade Hjemve (2007) som fick ett svalt mottagande.
Desto bättre gick det för An Education (2009) med manus av Nick Hornby. Den fick Oscar som bästa film, bästa manus och bästa huvudroll och
de engelskspråkiga framgångarna har fortsatt med En dag (2011), The Riot Club (2014), Their Finest (2017) och New York-skildringen Secrets
from the Russian Tea Room (2018).
Their Finest

Filmen utspelas i London under blitzen 1940. Det brittiska informationsministeriet vill göra en moraliskt uppbygglig informationsfilm om evakueringen av de allierade soldaterna från Dunkirk. Uppdraget går till en gift kvinna på avdelningen som ska skriva manus tillsammans med en professionell manusförfattare. Som i många av Lones filmer handlar det om lite udda, ensamma och medfarna individer som söker efter kärlek , här mot en bakgrund av ett land i krig. Filmen fick publikpriset vid Göteborg Film Festival.
THEIR FINEST HOUR
Tjust Bio, lördag 18.00